Arizona Hoarding Cleanup Costs
The majority of Arizona hoarding cleanups can fit into one of two categories, the first is when the client's goal is to restore to sell,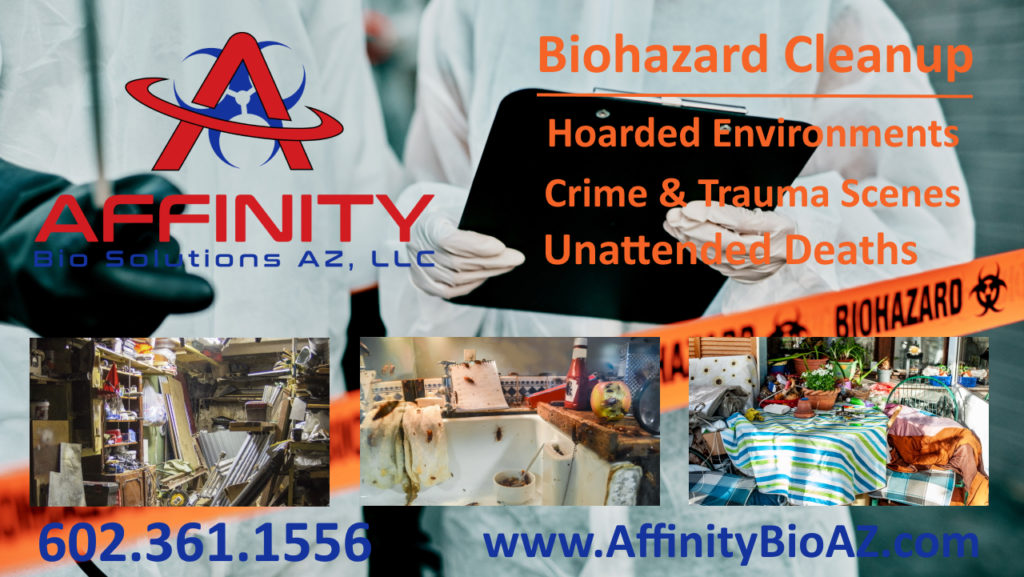 and for the second, the client's goal is to restore the home to more livable and safe conditions, and continue to live there. Determining the cost of hoarding cleanup and other services for each of these categories is often quite difficult for clients to determine. There are some differences depending on category and severity of the hoarding situation, but enough similarities to provide a basic outline for client's who may be considering making a change.
People may think about selling a hoarded or cluttered home for a variety of reasons, whether a resident is ready to move to a smaller home
Phoenix Hoarder Home Cleanup
or assisted living, a family member has passed away, or any other reason, it helps to understand the costs of restoring to sell. The first step is to remove any unwanted clutter from the home and identify items to be kept. If moving into assisted living or a smaller home, the resident may need some assistance from family members to make sure what they intend to keep will fit in the next residence. If some of the items need to cleaned or an odor remediation, a hoarding cleanup company like Affinity Bio Solutions can provide an estimate. To remove excessive clutter from the home, hoarding cleanup specialists will use 40-yard dumpsters. It is typical to fill one per day in most hoarded environments with three staff members. The daily labor rate agreed upon along with the number of dumpsters can help determine the clutter removal costs.
Hoarder Home Cleanup in Phoenix, AZ.
Hoarder Home & Hoarded Environment Biohazard Cleaning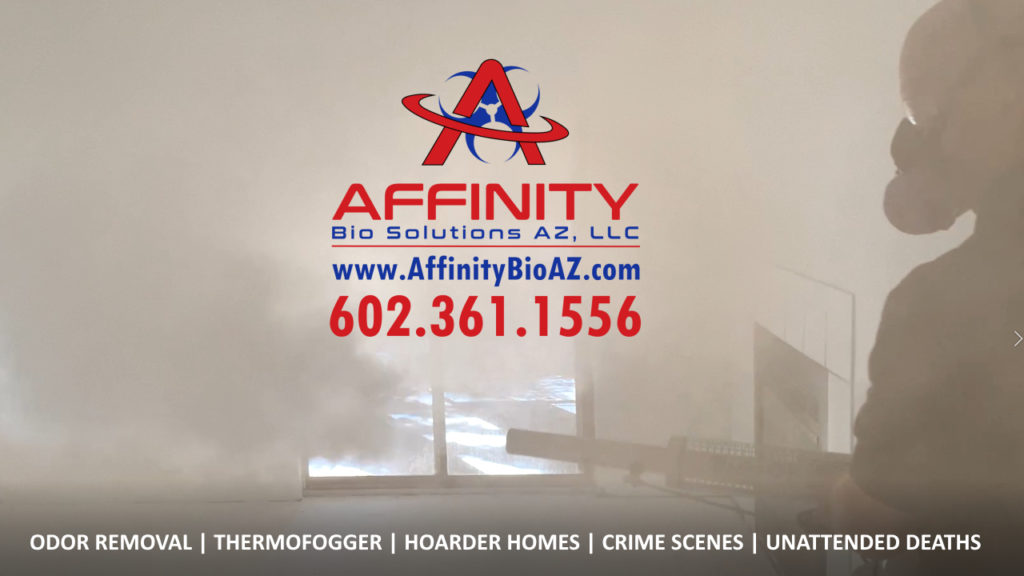 Once all clutter, carpets, personal items, and contents are removed, the empty property should be assessed for any needed repairs or other services. There will normally be some type of pest control service needed, a general cleaning, and odor remediation; the hoarding remediation and biohazard cleanup company should be able to recommend other companies if they do not provide these services themselves. If the hoarding situation involved many pets, a pet odor remediation and cleanup should be performed by a company such as Affinity Bio Solutions before any renovations begin. Another common issue is water damage and mold, most instances encountered and remediated by Affinity Bio Solutions staff are due to the resident not knowing that water damage has occurred beneath clutter. As this situation often goes unnoticed until the hoarding cleanup begins, mold growth and structural damage has often already started. Similarly, this situation should also be addressed professionally before any other renovations. After all of this is completed, other services like vent cleaning, and services to make the environment safe for any contractors should be carried out.
Once these services are completed, the family will need a contractor to begin preparing the home for sale. Major components of the AC system may need to be replaced if not working properly, as this could affect a homes resale value. An inspection should be carried out to see whether any major structural repairs are needed, such as roofing, flooring, and drywall. A company to paint the home may also be necessary. As some residents or family members begin to understand the overall costs of restoring to sell a home, they may consider selling the home as-is. Affinity Bio Solutions offers this service throughout Arizona and buys homes As-Is, sometimes in as little as two weeks (our clients choose their preferred closing date); Affinity pays for all closings costs, and has no hidden fees as well. Affinity Bio Solution's cash purchase option can help family members avoid the cost associated with a hoarding cleanup and the cost of repairs after the hoarding cleanup is complete. Calling Affinity Bio Solutions first for a free estimate and evaluation of the homes current value can help residents sell their hoarded homes and start fresh with absolutely no cost to them and extra cash in their pocket.
Not all residents or family members are looking to sell a hoarded home. There are many people who wish to
continue living in the home after a hoarding remediation has been carried out and it is a safer environment for them. Many of the costs associated with selling a hoarded home are similar to those when a person wishes to restore to stay. The hoarding cleanup itself will have similar costs unless significant time is needed to help the resident sort through their belongings to determine what is to be kept. As one can expect, the process of cleaning the home is also necessary and may need to be more detailed as people remaining in the home will need items such as appliances to be cleaned, which are usually discarded if the home was to be sold. Companies like Affinity Bio Solutions AZ who are certified in content restoration may also help a resident understand the costs associated with restoring furniture or other items to be kept versus replacing them.
The same level of restoration is often needed with structural items to make the home safe, as well as the need for odor remediation, particularly if pet odor is present. If any mold or other damage is observed once clutter is reduced, it should be remediated or repaired to keep the occupant safe. One cost advantage of remaining in the home is that some restoration services that do not affect safety can be performed at a later date as the family or resident is able to afford them. Whatever level of service required by the client, he or she should look for a company that is knowledgeable, patient, and treats them with dignity and respect, which is something Affinity Bio Solutions AZ offers to all clients.
The hoarding cleanup process can be categorized in two ways, which are restore to sell, or restore to stay, and depend on the resident or family members end goals regarding the home and what is best for the resident. Being informed about hoarding cleanup costs can help clients avoid unexpected expenses and make the hoarding cleanup process less stressful for all involved. The best way to do this is to start with a free estimate from an experienced hoarding cleanup professional such as those available at Affinity Bio Solutions AZ. For questions about hoarding cleanup or selling a hoarded home, please contact Glenn or Brook at (602) 361 1556 or email us at info@affinitybioaz.com
or use our online form to Contact Us about hoarder home cleaning costs and questions regarding hoarder house clean-up.
Serving Arizona & The Phoenix Valley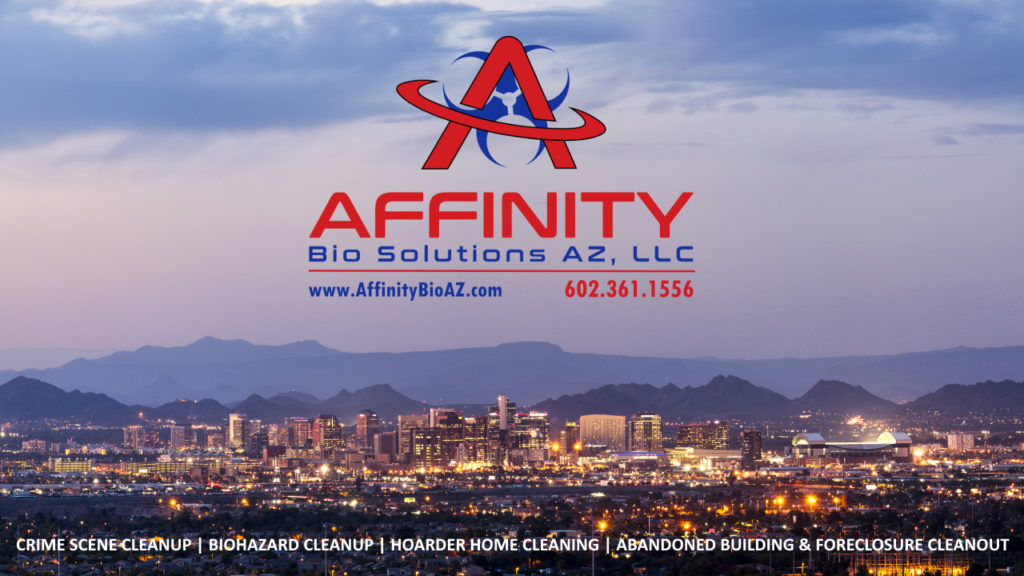 Arizona Biohazard Cleanup