Benefits of Using a Professional Crime Scene Cleanup Company
Arizona Crime Scene Cleanup
When a family experiences a traumatic event or loss, those involved should not have to worry about taking care of the property and its contents while grieving and trying to attend to the family's needs.
Many people are simply unaware that companies specializing in biohazard remediation, crime scene cleanup or trauma cleanup in Arizona even exist.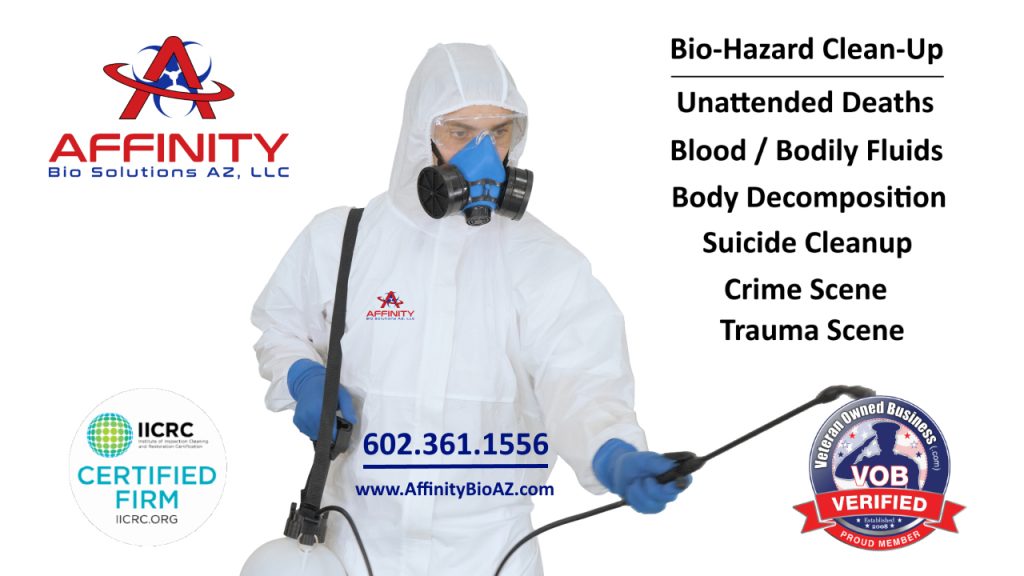 Some people may assume the costs associated with crime or trauma scene cleanup will be too high. Such beliefs can at times lead people to consider performing their own biohazard remediation or blood and bodily fluid cleanup, which is often less safe and less effective than using a company with experience and appropriate training.
Crime scene cleanup costs are almost always covered by homeowner's insurance and some company's like Affinity Bio Solutions will often work with you to reduce or eliminate any deductible. Homeowners are not penalized by insurance companies after this type of claim is made as one may expect with say, an auto policy where rates would increase after a collision. The crime scene cleanup company can properly document the extent of damage to the home and personal property, so the homeowner is able to receive a replacement value for the items and any repairs needed after cleanup. Certain techniques are also available to the crime scene cleaner that allows him or her to restore/sanitize valuable or sentimental items effectively instead of discarding them. In contrast, cleaning a trauma scene yourself limits these options and receiving a replacement value for items damaged by blood, bodily fluids, or odor is unlikely.
The safety of surviving family members and anyone else involved should be paramount, whether dealing with blood cleanup, accident cleanup, unattended death, trauma cleanup, or any other situation involving bloodborne pathogens. Experienced and certified crime scene cleanup technicians working for IICRC certified firms and hold OSHA certifications understand how to take steps to ensure the safety of residents and community members. This is important because the possible exposure to pathogens exists from the moment one enters a trauma scene until all potentially biohazardous materials are disposed of ethically and legally at an approved medical waste treatment facility. Affinity Bio Solutions AZ carries a medical/biohazardous waste transporters license needed to enter or transport items contaminated with bloodborne pathogens to an ADEQ approved treatment facility.
Without proper cleaning and verification, the risks associated with exposure are likely to remain, even after attempted cleanup by family members. Specialized equipment, supplies, and chemicals aid in maintaining safety while ensuring all potentially infectious materials are removed. Affinity Bio Solutions for example often applies equipment such as air scrubbers, ozone generators, high temperature steam, and other necessary equipment on almost every trauma or unattended death scene. Specialized chemicals such as enzymes, surfactants, and disinfectants are often used in combination with consideration of which products are the least likely to damage personal property and pose a potential health risk for any residents. People without experience may need to rely on harsher chemicals like chlorine bleach to disinfect, which can damage personal property and furniture, as well as leave an unpleasant caustic odor in the environment after cleanup.
A common issue with people attempting to clean or disinfect what may appear to be a less severe crime scene cleanup is continuing odor or insect activity resulting from him or her not realizing areas such as subflooring or semi porous items have been affected. Odors will persist until their source is removed and a professional odor remediation process is applied. This is another benefit of using a professional company, especially when heavy odors maybe present after an undiscovered death. The experienced crime scene cleaner will likely notice all affected areas quite quickly, work to remove contaminants and odor completely, then guarantee his or her work.
As part of the trauma scene cleanup process, Affinity Bio Solutions AZ will verify that affected areas are properly cleaned and disinfected through the use of an ATP reader. This piece of equipment uses swabs to read relative light units, areas over a certain threshold should be recleaned and disinfected before the scene is cleared. Once the scene is cleared and an odor treatment has been applied if needed, Affinity Bio Solutions AZ staff will coordinate with any other professionals needed to perform work like replacing drywall, flooring, or other services and inform/bill the insurance company directly. This verification process and the use of a professional crime scene cleanup company working alongside other licensed contractors affords families a level of confidence if considering selling or renting a property afterwards. Arizona is a non-disclosure state, but should a family decide to disclose what happened to any potential buyer, he or she is likely to feel much more confident if the steps taken to reduce any potential risks can be verified. 
Contact Affinity Bio Solutions of Arizona if you have any questions regarding crime scene cleanup, biohazard cleaning, trauma scene clean-up. blood and bodily fluid cleanupo. medical waste pickup and disposal, odor remediation or water damage and flood extraction in Arizona including Phoenix, Scottsdale, Paradise Valley, Cave Creek, Glendale, Sun City, Surprise, Peoria, Litchfield Park, Goodyear, Avondale, Buckeye, Tempe, Chandler, Mesa, Gilbert, Apache Junction or Queen Creek and the San Tan Valley.