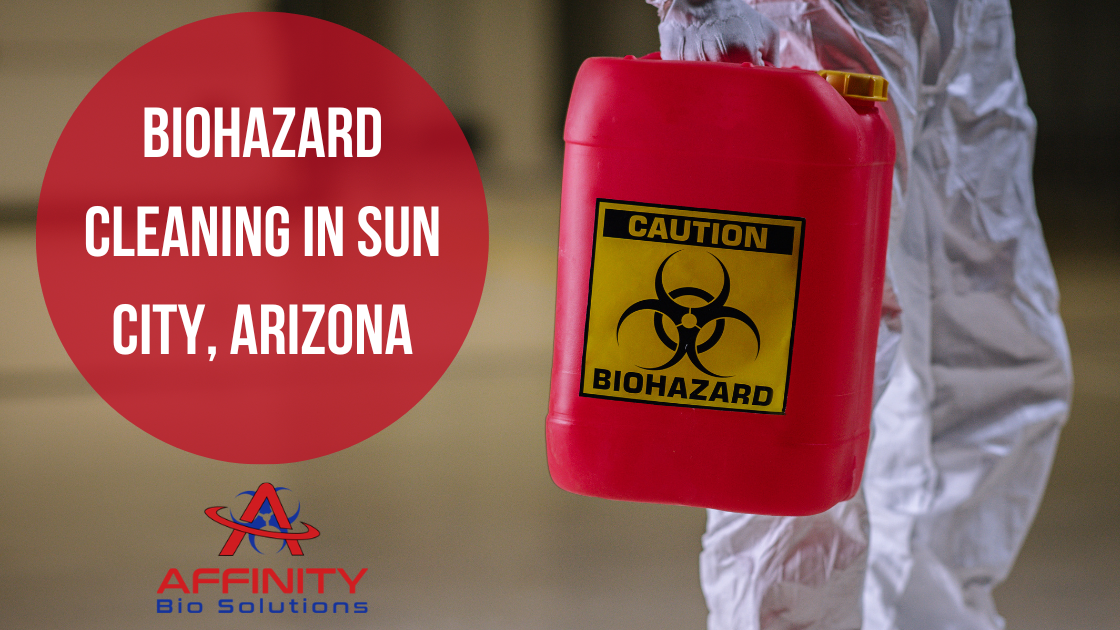 Biohazard cleaning is the work of specialized companies with the tech, experience, and training in removing blood and body fluid. These fluids contain bloodborne pathogens that can harm humans as well as animals. In addition, they contaminate the environment and water sources. There are a few biohazards clean-up companies in Sun City, AZ, such as Affinity Bio Solution. Infectious microorganisms are categorized by types and effects by the United Nations, which can lead to severe sickness for several months.
Infectious substances harmful to humans
Infectious substances harmful to animals
Unidentified biological substances
Regulated medical waste.
Another existing classification by the CDC is as follows;
Level 1 — pose minimal threat to humans (E. coli)
Level 2 — cause moderate harm to humans (HIV)
Level 3 — high-risk pathogens that can become airborne (tuberculosis)
Level 4 — life-threatening pathogens with no known treatment (ebola)
Types of Biohazard cleaning in Sun City, Arizona
There are many types of biohazard clean up in Sun City, Az, but two are popular;
Unattended death clean-up
The type is emotional because it involves a loved one dying in the house or their homes. Experts in the business say the scene usually contains bodily fluids and other harmful biomaterials. These materials call the attention of pathogens putting humans at risk.
Sun City, AZ, has companies handling such occurrences. The work may sound simple, but it involves many processes, such as removal, disinfection, using standard and approved chemicals and equipment, and quality training. So, call the professionals in this case.
Crime/trauma scene clean-up
A crime scene contains blood and bodily fluid, forensic residue, and sometimes tear gas, especially a violent crime scene. Crime scene cleaners handle these biohazard materials to eliminate the health hazard from the environment after investigations. These violent incidents in Sun City include accidents, mass trauma, homicides, suicide, vandalism removal, etc.
Cleaning process
Sun city biohazard clean-up companies have different steps, but the recommended and popularly utilized steps are;
STEP 1: Control contamination
The first thing biohazard clean-up companies do in Sun City, Arizona, is to disinfect the scene to prevent the spread of contamination. Next, they plot the scene in control, buffer, and clean zone.
Control zone – the contaminated scene and where the clean-up process occurs
Buffer zone – the PPE dressing area and disposal of contaminated materials
Clean zone – segregated area for keeping tools and equipment away from contamination
STEP 2: Biohazard clean-up and structural removal
After the team has set up the three zones, they begin cleaning dirt, removing debris, and biological materials like blood and bodily fluid. The team will dispose of any material that cannot be completely decontaminated and properly disposed of.
Biohazard cleaning companies use adenosine triphosphate (ATP) fluorescence tests to check for contaminant residue. Lastly, they use a deodorizer to remove the odor.
When families or friends experience such a violent death scene in Sun City, they don't have to worry about the clean-up process because many companies are willing and trained to assist. So pick up the phone and dial a biohazard clean-up company anytime for assistance.
Contact Affinity Bio Solutions for All Your Professional Biohazard Cleanup Needs