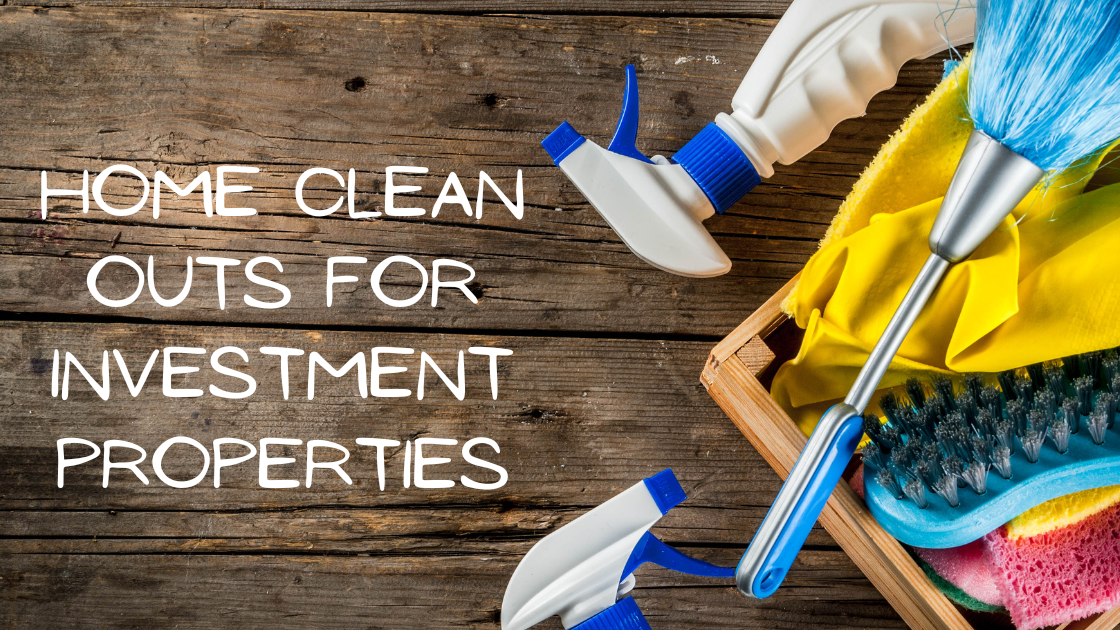 What is a home clean out for investment properties? -This is a frequent question that many property owners ask. The answer is quite straightforward: investment property cleanout keeps your rental unit in good condition and desirable to current and future tenants. Though the term implies it, there is a distinction between a 'home cleaning' and an 'estate cleanout.' A 'house cleanout' is similar to the preceding definition and is commonly performed when the residents of a house are moving to a new home, remodelling it fully, or for any other cause that requires them to empty their home thoroughly. Keep in mind that investment properties are your primary source of rental revenue, but you won't be able to attract the best quality tenants if your property is in bad condition.
Furthermore, failing to undertake critical maintenance and repairs makes keeping quality tenants difficult. And as property owners are well aware, the turnover process and the hunt for excellent renters can be time-consuming and costly; investing in maintenance and repairs saves you money in the long term.
Maintaining rental property in good condition will assist in protecting and possibly boosting its value. So, when the time comes to sell, you may do so for capital gains (profit). Finally, frequent maintenance promotes larger returns and allows you to earn a decent return on your investment.
The home cleanout for an investment property is an essential component of property management, and rental properties, like any other property, require periodic maintenance, including everything from interior and exterior cleaning to damage repair. Without suitable guidance, it might be difficult to determine what specific maintenance activities you should perform. We've created a rental property maintenance checklist to help you stay on top of things:
Washing Under High Pressure
Exterior cleaning should nearly always be included in any property's maintenance routine. But, first, you must clean your property using a pressure washer to extend its longevity. A mix of high-pressure water and cleaning chemicals can be employed to remove filth, mildew, oil, and mould. You may also pressure wash your gutters to unclog them and avoid water damage, except for external surfaces and walls.
Replacement of Filters
It is critical to change the filters on your air conditioner. I'd recommend changing your air conditioning or heating unit's filters at least twice a year. The disadvantage of not replacing filters is that you allow the filters to become dirty, which causes polluted air to spread and can lead to higher utility bills since the unit has to work harder. In the worst-case situation, the machine may begin to malfunction. If you keep these filters in place for too long, the unclean or blocked air ducts will require expert cleaning, which will be an unnecessary additional investment.
Exterminations should be planned and scheduled regularly.
Pests like rats and insects may render a home uninhabitable and cause a significant nuisance. They may wreak havoc and do substantial damage to your property. Monthly exterminations are an efficient strategy to handle or avoid the problem.
Check for water leaks and damage.
Water leaks and damage are among the most typical maintenance and repair issues. Regular inspections for water damage or leaks should be part of rental property upkeep. Keep an eye out for soft areas on the walls, ceilings, or roofs. Toilets, showers, beneath sinks, and around windows should all be checked. Detecting water leaks may save you a lot of time and money; addressing these leaks will help avoid water damage, which may be costly to repair. Furthermore, water damage can promote mould growth, which, according to the Centers for Disease Control, can pose serious health hazards.
Conclusion to Home Clean Outs for Investment Properties
The depth of cleaning refers not just to how clean the property is but also to what is cleaned. A deep clean removes filth, grease, stains, and limescale from the house, including ovens, soft furnishings, cupboards, and even outdoor places.
The goal of an investment property cleanout is to thoroughly clean a rental property before the next tenant moves in, which is especially crucial in the aftermath of Covid-19 and with people's increased awareness about health.
Contact Affinity Bio Solutions for All Your Professional Biohazard Cleanup Needs