Arizona Hoarder House Cleanup
Arizona families experiencing issues related to hoarding disorder and hoarder house cleanup in Arizona often find it difficult to reach out for help from family members, friends, or other community resources because of the stigma associated with hoarding behaviors and some of the stereotypical belief's others may have. Many people simply do not understand that hoarding often stems from traumatic experiences or life changing circumstances a person faces, and that he or she has the capacity for change if he or she receives the help they need with hoarding disorder.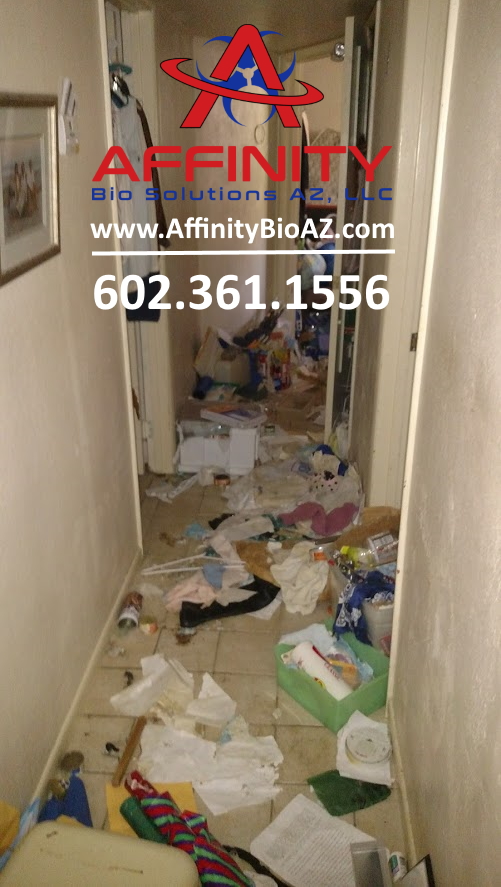 Sun City, Arizona Hoarder House Cleanup July 2020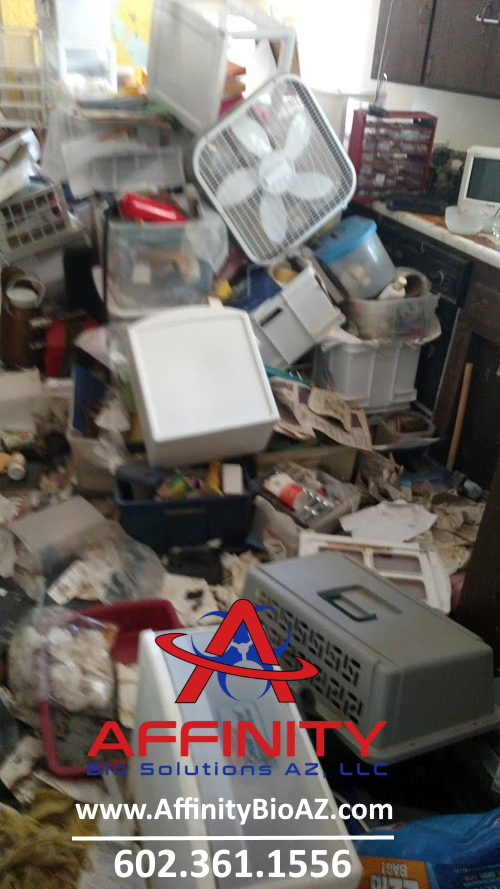 How to Reduce Hoarding Cleanup Costs
Below are some tips that can help Arizona families avoid excessive hoarding house cleanup costs and how to effectively reduce clutter in a hoarded house efficiently. Before explaining some of the ways Arizona hoarding cleanup costs can be reduced, I would like to mention that in many extreme cleaning situations or hoarded environments, there may be exposure to potential biohazards. These are more commonly seen in animal hoarding situations or those where there is an excessive amount of rotting food, human feces, or urine present. 
Hoarded Home Environment Potential Health Risks
Insect activity can add to potential health risks at the hoarder home in Arizona, so it is important to consider whether it is safe to begin some cleaning and sorting processes without proper personal protective equipment (PPE). If blood, feces, needles, deceased animals, urine, or any other type of potential contaminant is present that could cause a risk to one's health. Using a professional hoarding cleanup company, that is capable of minimizing exposure risks, and has appropriate PPE available to them should be considered from the start.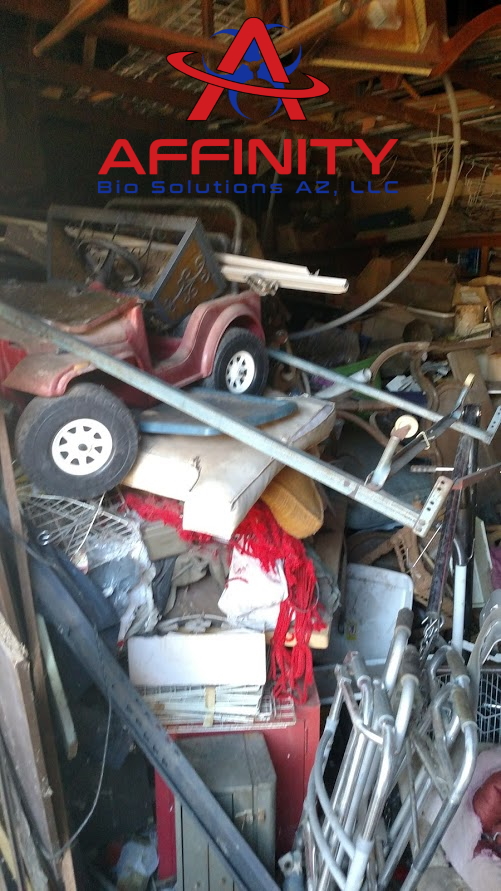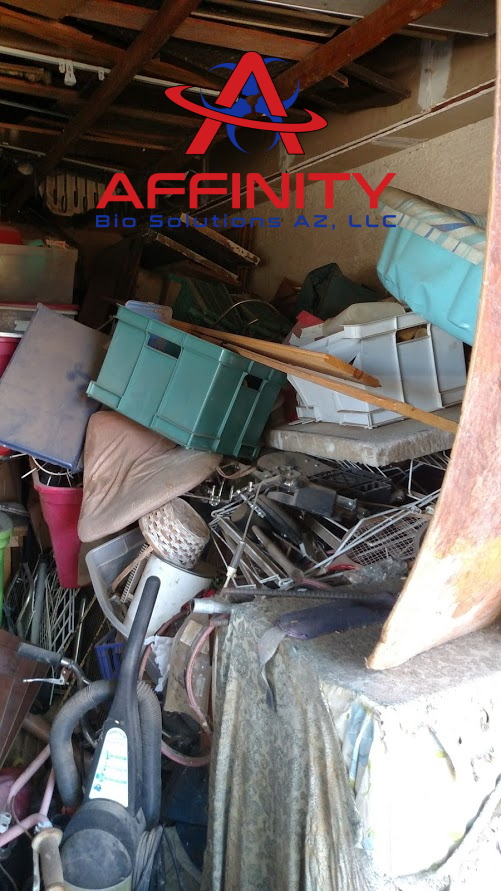 Affinity Bio Solutions is Available 24/7 if you Need Help with a Hoarder House or Hoarded Home Situation in AZ.
If you are unsure about whether a hoarded environment is safe to enter in Arizona, please call Affinity Bio Solutions AZ, LLC at (602) 361-1556, and we would be happy to look at any cluttered home or hoarded environment in Phoenix and surrounding areas including Tempe, Scottsdale, Glendale, Peoria, Sun City, Surprise, Litchfield Park, Goodyear, Avondale, Buckeye, Mesa, Gilbert, Apache Junction, Chandler or Queen Creek. There is no obligation to use our services. When attempting to reduce clutter in a hoarded home, deciding the type and severity of the hoarded environment, is an ideal first step. Some common themes appear to be animal hoarding (which should not be tackled alone), shopper/collectible hoarding, paper/book hoarding, and general trash or food hoarding. 
In Arizona hoarder homes with excessive insect activity (especially bedbugs), where animal hoarding has occurred, or gross filth is an issue, items may be contaminated and should not be donated or sold. As one can imagine, the main difficulty in homes impacted mostly by shopper hoarding or paper goods hoarding may simply be excessive clutter, accessibility, and the need to sort trash from wanted items. If this is the case, selling off any unwanted items, or having a charity pick them up can help reduce sorting needed by hoarding specialists.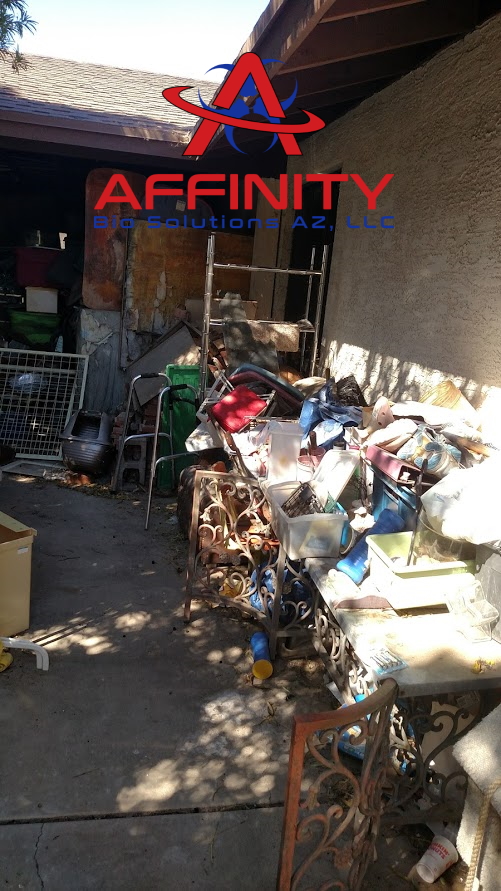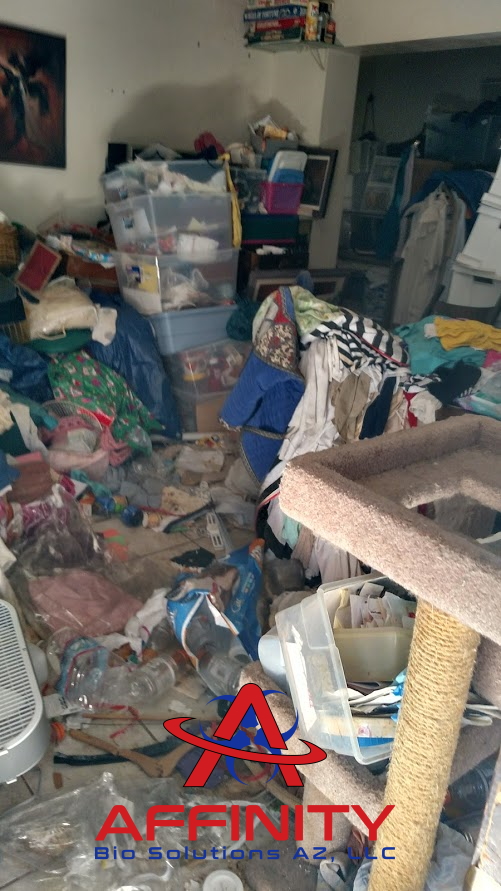 Consider the Next Steps for Your Family Member and the Home
Considering yours or your family members overall goal should be another consideration before moving forward, as far as whether or not he or she wishes to remain in the home, or sell it. When people move from a hoarded home in Arizona into assisted living or somewhere else, one should keep in mind the amount of space available at the next location. In both scenarios, creating a staging area to place wanted items in can be very helpful. The difference would be that as a person who is relocating places these items into the staging area, the items should be cleaned, packed, and the number of items should not exceed available space at the next location. 
A person who is remaining in the hoarder home has more flexibility, but keeping the items and the staging area clean and organized can be helpful later. When ready to begin to declutter, the main focus should be identifying all the items that are to be kept, donated, or sold. All items not considered trash should be labelled, which can be a time-consuming process, but completing this task one room at a time, will often save time later and help reduce the possibility of valuable items being thrown out accidentally.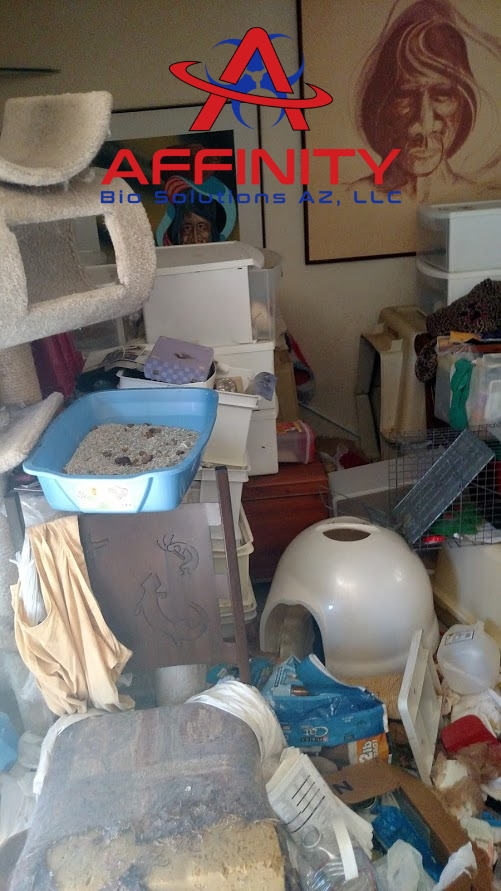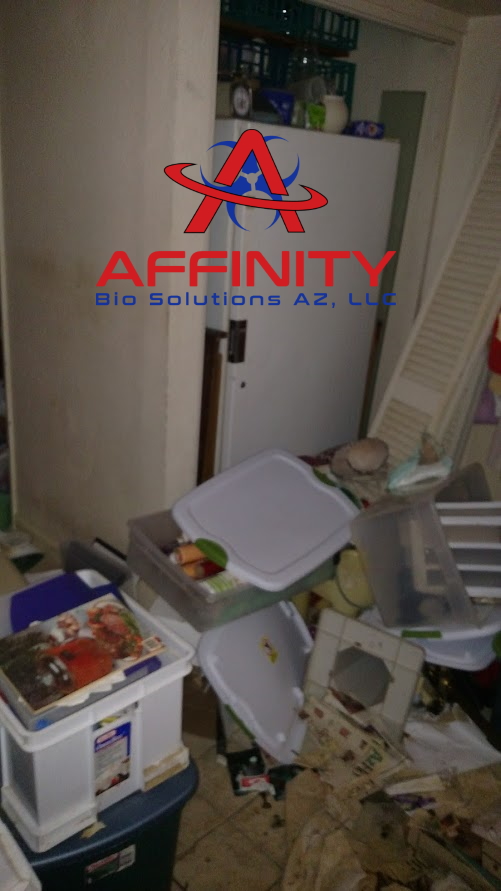 We often use blue painters' tape for this as it is easily visible to any hoarding cleanup crew. Now that everything to be kept is labelled, begin moving items to the staging area, unless it is not safe to do so. Leave the heavier items behind for the hoarding crew to move, unless these items are to be donated or sold, and focus more on breakable/high value items. If the number of items to be kept is overwhelming, consider calling in a hoarding specialist to remove unwanted items first to make the entire process easier.
If you decide to begin throwing some items away yourself, please be cautious about where clutter is placed. Some items can easily become a trip hazard or fire hazard if disturbed. Another simple, but helpful idea is to declutter one room at a time and try not to block doorways or exits in case of an emergency. Making trips to the landfill can slowly add up costs, so try to avoid this if possible since it is far cheaper to have a hoarding remediation company place all items in larger 40-yard dumpsters at once.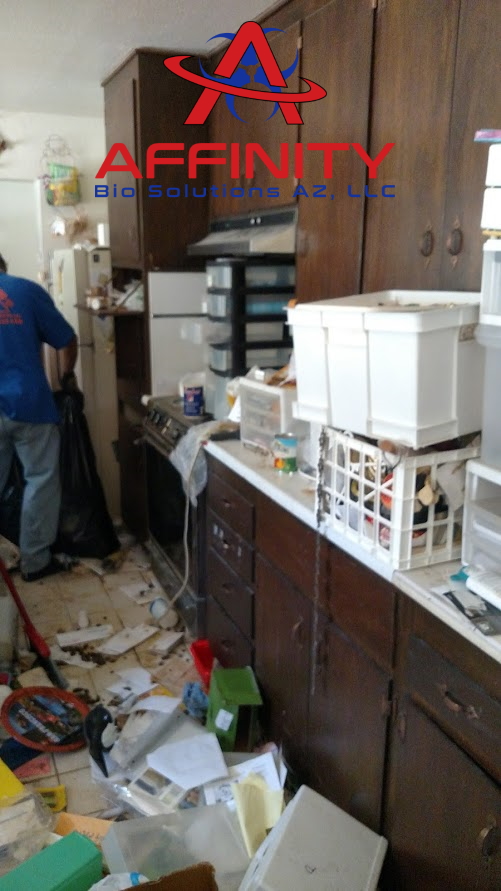 Have an Arizona hoarding cleanup company or junk removal specialist provide an estimate to throw away all unwanted items and decide whether the property can be cleaned yourself, or if it's best leaving it to the cleanup specialists. Once the hoarding remediation is complete, find a contractor who can repair any damage to the home that compromises its value or the safety of residents, and call in a pest control company if needed.
Another time and cost-saving option if your plan is to sell the home, could be to find a company like Affinity Bio Solutions AZ, or real estate professional that will offer to purchase the home as-is with no out of pocket cost for cleanup. 
Phoenix, Arizona Hoarder House Cleaning
Tempe, Arizona Hoarded Home Cleaning
Images from an Actual Hoarded Home Cleanup in Sun City, Arizona
The above images in this post were taken at a hoarded house cleanup in Sun City Arizona near Surprise and Peoria AZ. Affinity Bio Solutions AZ, LLC provides hoarder home cleanup services throughout Arizona and the Phoenix Valley including Tempe, Scottsdale, Glendale, Peoria, Sun City, Surprise, Litchfield Park, Goodyear, Avondale, Buckeye, Mesa, Gilbert, Apache Junction, Chandler or Queen Creek.  
Give us a call if you have any questions or concerns regarding a family member with hoarding disorder or you need help cleaning out potential biohazard risks and clutter at a hoarded home in Arizona. 602-361-1556