8 things You Should look for in a Professional Biohazard Cleanup Company (2021)
Finding the right crime scene cleanup company can help ensure that every step of the biohazard cleanup process is completed properly. It can save client's time, money, and help avoid negative consequences or liabilities often associated with businesses not properly set up to perform this kind of work. As the owner of a crime scene cleanup company who has worked in the industry full-time since 2009, I have experienced almost all types of trauma cleanup situations.
While working for other companies and owning Affinity Bio Solutions AZ, I have paid attention to what does and does not work well. Practices that do not tend to work well have often been highlighted when correcting work started by other less experienced companies. The goal here is not to speak negatively about other companies, there are plenty of great ones out there. It is to provide a list that will help save time in finding the right company for you when facing an emergency situation. Let's dive right in
1. Required Licensure/Insurance
2. Certified Biohazard Cleanup Technicians
3. Experienced Crime Scene Cleanup Staff
4. Crime Scene Cleanup is Their Primary Specialty
5. The Biohazard Cleanup Company Provides Realistic Guarantees
6. Adaptability
7. Offers A Referral Network
8. Involved Until the Trauma Scene Cleanup, Odor Remediation, and Rebuild Process is Complete
Required Licensure/Insurance:

States may vary on licensing and insurance requirements for crime scene cleanup companies, but the most competent companies maintain consumer confidence in similar ways. A contractor's license and bond through the Registrar of Contractors build confidence because it provides client's a dispute resolution process, the contractor is qualified, and will carry appropriate insurance. The bond/license combined with insurance will reduce/eliminate customer liability if the home is damaged or a worker is injured. State agencies like the Arizona Department of Environmental Quality also require crime scene cleanup companies to have a medical waste transporters license. This license allows the crime scene cleanup company to transport medical waste safely, dispose of it ethically, and maintain chain of custody.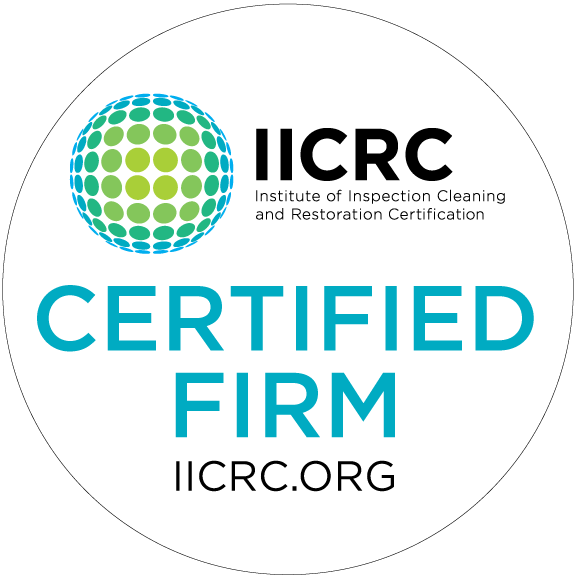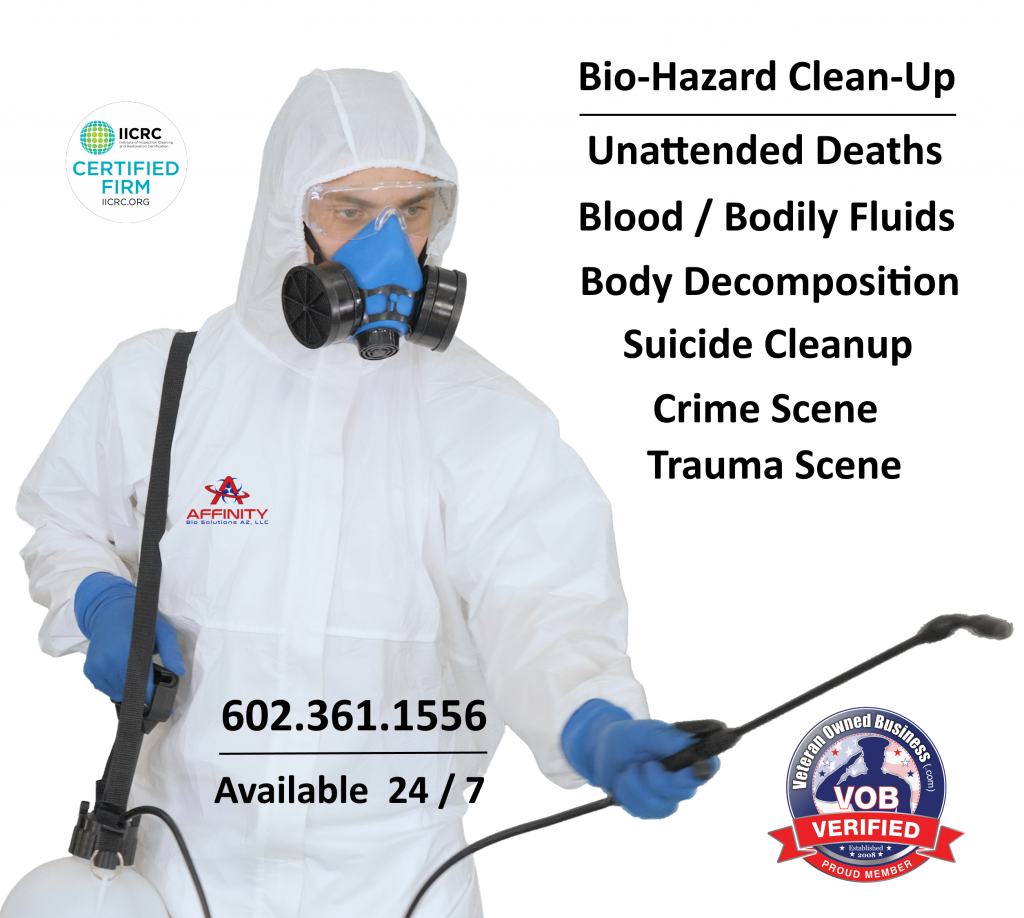 Certified Biohazard Cleanup Technicians:
Anyone responsible for any type of blood cleanup in a home or business should be certified and follow OSHA guidelines. A variety of crime scene cleanup certifications are available from state to state, but those guided by IICRC/ANSI standards are often most appropriate. Certification and meeting OSHA requirements do not just allow for the effective and efficient cleanup of trauma scenes, but also ensures your safety and the safety of those completing the work. Those who promote universal practices and precautions within the biohazard cleanup industry can help to maintain confidence in it. The new IICRC/ANSI standard for crime scene cleanup professionals will be available later this year. I'm proud to announce that I have been selected as a reviewer/producer for the national standard.
Experienced Crime Scene Cleanup Staff:
Certifications are important, they can help crime scene cleanup staff maintain safety and avoid issues like cross-contamination. They cannot however, replace experience when it comes to trauma scene cleanup. The nature of professional biohazard cleanup does, unfortunately, lead to high turnover in the industry. As an example, I have been a professional crime scene cleaner since 2009 and I only know of two other trauma cleanup company owners in the entire state with more experience.
One of the partners of my company has similar (actual) experience in the industry and we each still come across situations that are new to us and immediately consult with the other as a precaution. A lack of experience in biohazard cleanup and the inability to consult with other experienced crime scene cleanup specialists can often result in inexperienced technicians simply trying various methods and hoping for a positive outcome.
Crime Scene Cleanup is Their Primary Specialty:
As mentioned above, experience, certifications, and proper equipment/training is crucial in the biohazard cleanup industry. It may appear that perhaps someone with a strong stomach working in the construction/restoration industry would be able to complete crime scene cleanup work effectively, but this is not always the case. Being effective and efficient at crime scene cleanup often requires the entire companies' efforts and direction be focused toward it.
A demolition and rebuild focus can be costly and time consuming when compared to the restorative/remediation focused approached of the crime scene cleanup specialist. Companies specializing in crime scene cleanup will typically offer other services that fall under the crime scene cleanup category. These include accident cleanup, undiscovered death cleanup, suicide cleanup, blood and bodily fluids cleanup, vehicle biohazard cleanup, disinfection services and odor removal.
The Biohazard Cleanup Company Provides Realistic Guarantees:
After observing a trauma scene, a biohazard cleanup company may be able to provide a guarantee as to time and price if the cleanup is relatively straight forward. For more difficult cleanups such as unattended deaths which are likely to require an odor remediation and possible structural issues, this can be more difficult. It can become very frustrating when a crime scene cleanup company provides unrealistic guarantees over the phone then has to change its estimate once work has already started. It is much more appropriate to let the client know the possible issues that could occur which affect cost and estimated time of completion so the family can plan confidently.
They are Adaptable:
There are certain situations that require a biohazard cleanup company to adapt to meet the needs of the client. Some examples could be the need for the family to remain in the home while trauma cleanup work or odor remediation is completed or high value/important items cannot be disposed of. Having the right equipment and experience allows the trauma scene cleanup company to be more adaptable and meet the client's needs safely. The same experience and equipment/chemical processes can also help the crime scene cleaner to restore irreplaceable items instead of discarding them.
Offers a Referral Network:
Crime scene cleanup companies with a referral network can also be most helpful to the client by helping restore the residence to livable conditions quickly, with minimal effort by the client. Trades within the network may be more comfortable working in a home where a trauma cleanup has occurred and can work with the biohazard remediation specialist to ensure their safety. If a family wishes to sell the residence after cleanup and restoration is complete, a referral to a real estate professional familiar with the probate process is ideal. Quality referrals can save the client time, money, and effort.
Involved Until the Trauma Scene Cleanup, Odor Removal, and Rebuild Process is Complete:
A trauma cleanup company will typically perform any type of bioremediation and complete the odor removal process themselves. When there is homeowner's insurance, the structure and contents that are damaged may also be replaced/repaired. A biohazard cleanup company familiar with the insurance documentation/billing process can ensure the insurance company has the necessary proof to cover these items. A competent company will communicate with adjusters on the family's behalf if necessary. Those who refer a contractor for replacement work should step in if there is an issue and help with finding other trades if necessary.
Conclusion
When looking for the best crime scene cleanup company, clients are often time limited and need to react quite quickly. Demands placed on family members during such a stressful are difficult enough, so finding a competent crime scene cleanup company from the start to handle the entire trauma scene cleanup process for you is important. The qualities described in the list above can help avoid negative outcomes and help a family move one step closer to recovering from the loss more quickly.
Please feel free to post any questions or comments you may have, or any suggestions for blog posts on related topics you would like to hear about. You may also contact me at glenn@affinitybioaz.com where I would be more than happy to answer any questions.