CAN A STOLEN VEHICLE USED FOR DRUGS BE CLEANED?
Stolen vehicles are an issue that almost every community faces. If you've ever had your car stolen, you know how stressful it is, and when you get your vehicle back, you know the cops will have gone through it looking for evidence, whether it's fingerprints, DNA, or narcotics. You may believe that travelling to the impound lot to pick up your automobile is the end of your ordeal. Life will eventually get back to normal. But unfortunately, reclaiming your car is simply the first step in rehabilitation. It may take some time to get back on the road safely.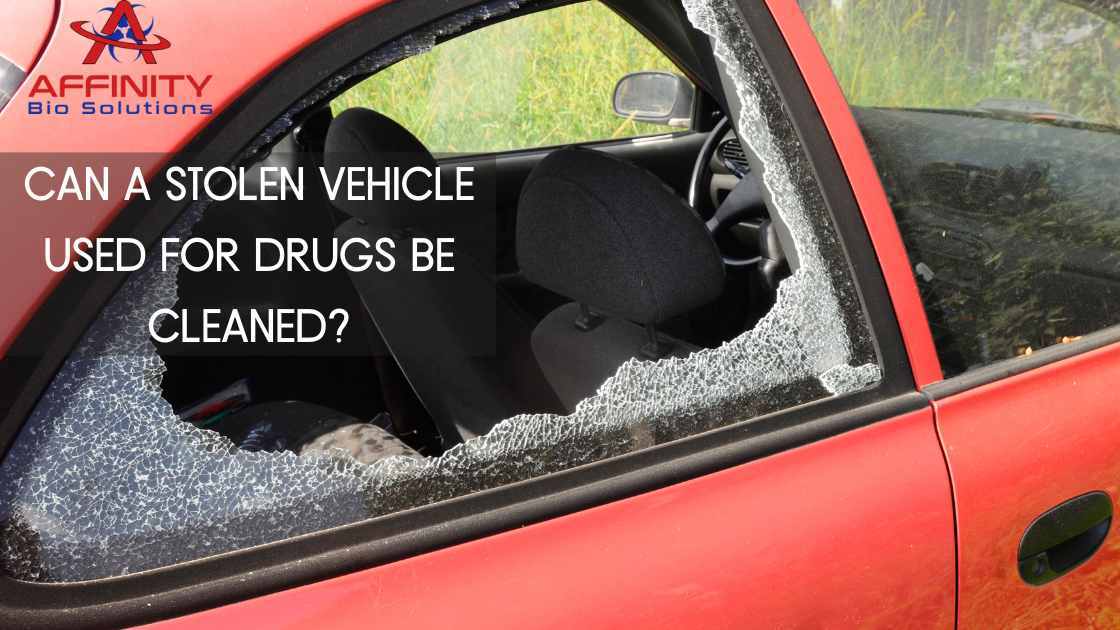 Even if no physical damage is apparent, authorities are advising owners to have their vehicles inspected for probable drug residue and then thoroughly cleaned.
Drug traffickers or addicts perpetrate many car thefts. They use your car to commit additional crimes to get and distribute narcotics. Many potentially obvious and concealed dangers might have polluted your vehicle here. What you don't know or see might be dangerous to your health. Drug testing your vehicle reduces exposure to harmful compounds and safeguards the safety of all who come into contact with it. Even if the authorities could offer some information about the criminal activities involving your automobile, there is no way to know whether drugs were there without a drug test.
DRUG TESTING YOUR VEHICLE FOLLOWING A THEFT AND RECOVERY
It is critical to drug test your car after it has been stolen and recovered to safeguard you and your family. Unfortunately, stolen automobiles, as we all know, are a regularly reported crime. Reasons for automobile theft include:
Stolen automobiles are utilized in various crimes such as robberies and drug trafficking.
Thieves may own an identical vehicle and require a part to repair or modify another car.
Stolen vehicles may be modified and sold to unwary buyers.
Thieves take automobiles to transport them from one location to another and then discard them.
HOW LONG DOES DRUG RESIDUE IN A CAR LAST?
This question is critical for the safety of your car once it has been stolen and recovered. Unfortunately, it is not easy to give you a firm response. However, there have been instances in the past where methamphetamine residue did not dissipate over time. The main conclusion should be that drug residue lingers on surfaces long. If your automobile was stolen and used to carry narcotics, the residue was undoubtedly left behind, dropped into cracks, or entrenched in the fabric. Without adequate cleaning services, the deposition may stay, posing a severe threat to your health and safety.
SUPPOSE YOUR VEHICLE DRUG TESTING RESULTED IN A POSITIVE RESULT. WHAT NOW?
Expect to find considerable levels of drug residue. Don't be concerned. A professional auto cleaner can disinfect your stolen vehicle, eliminate all signs of harmful compounds, and restore your car to a safe and clean state.
The decontamination of a vehicle takes typically 1-3 days, depending on:
the extent to which vehicle parts must be disassembled to have access to all affected locations
the amount of cleaning necessary before reassembling the vehicle parts
chemicals discovered during the initial examination
Comprehensive vehicle decontamination is accomplished in three stages:
Taking everything out of the car, including guns, sharps, drug paraphernalia, garbage, and personal things
Sanitation to neutralize and eradicate illegal narcotics, bloodborne diseases, body fluids, and other potential risks
Cleaning using thorough, stringent methods to ensure no residues are left behind
Not only is decontamination necessary for eliminating harmful things, but sanitizing and deep cleaning eliminate any concealed drug residue that might impact you.
Conclusion
If your vehicle was recovered after it was stolen, decontamination Is Not For The "DIY-er" The depth and attention required to guarantee that a car is clean necessitate far more than "the works" from a typical car wash or detailer. Decontamination will restore the vehicle to pristine condition by removing biohazards such as drugs, drug residue, and contagious illnesses.
Contact Affinity Bio Solutions for All Your Professional Biohazard Cleanup Needs