Different Types of Trauma Scene Cleanup in Arizona
Affinity Bio Solutions AZ, LLC provides trauma scene cleanup and responds to several types of trauma scenes throughout Arizona. Each type of trauma scene may be treated differently, and can have a varying impact on property, property owners, and family members.
The amount of damage to a property or vehicle can depend on the type and severity of each trauma scene. Each situation can be affected by climate, activity within the property, and how it was constructed or built.
One commonality among all bio-hazardous trauma scene situations encountered by Affinity Bio Solutions is the use of universal precautions used to protect employees and others involved. The similarities and differences between potentially biohazardous situations and how they may affect property owners and family members will be described below.
Some of the potentially infectious environments we encounter and remediate include:

For each of these bio-hazard cleanup services, Affinity Bio Solutions of Arizona applies universal precautions regarding safe practices outlined by OSHA and personal protective equipment (PPE). These will be discussed more in a future blog post, but in general, this means treating every trauma scene cleanup environment as if potentially infectious biohazardous materials are present. Wearing a full-face respirator, biohazard suit, gloves, shoe covers, and following other safety practices does not mean we believe your relative or other person in particular places us at risk, it is simply best practice for the crime scene cleaning industry to ensure employee and community safety.
Blood and body fluid cleanup services are often performed after an accident in the home or business, an attempted suicide, or a serious health complication that often leads to hospitalization. The majority of these situations occur in homes and are typically covered by homeowner's insurance, but some may occur in vehicles or other environments. Other potentially infectious materials (OPIMs) such as feces and other bodily fluids may be present with blood and all organic matter should be handled with caution by a trauma scene cleanup professional. There may not be as much damage to property as seen with other situations such as an undiscovered death, but should still be treated with great care and attention to detail. Blood and bodily fluids may saturate porous items like furniture and carpeting, or impact areas that may not be visible, like sub-flooring or under construction materials as the fluid will naturally seek its lowest point to settle.
Crime scene cleanup is a term often used to encompass many services in this industry. Affinity Bio Solutions prefers to narrow down this term to include more  specific circumstances involving a crime of some sort. Crime scenes may vary in their severity, but differ from other scenes in the way that crime scene cleaning professionals should look to the family or local law enforcement professionals to provide documentation or other forms of proof that the scene has been processed, cleared, and ready to be cleaned.
Treating all crime scenes in this way helps companies avoid destroying evidence unintentionally or aiding those who may have committed a crime. The impact on the home or commercial property can depend on the type of incident that occurred and the amount and type of property present in the environment. Crime scene remediation can become more difficult when a situation occurs that involves law enforcement using tear gas as well. When this happens, the whole environment is usually affected and specialized equipment and chemicals are used to clean the home after any bloodborne pathogens or OPIMs are decontaminated and removed.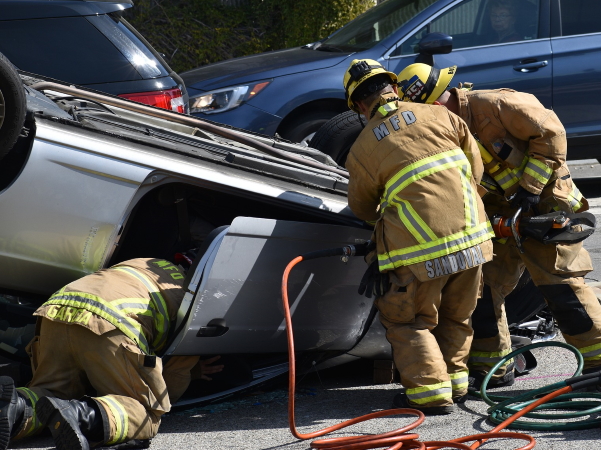 Vehicle biohazard decontamination can also vary in scope and type, the most common callout for this service happens after a motor vehicle accident has taken place, but it is not uncommon to be called after a person has completed suicide in a vehicle, or when a crime occurs.
Auto insurance will, to a certain extent, cover damages and vehicle decontamination services after an accident happens, unless the cost for decontamination and repairs leads them to consider totaling the vehicle. It may be necessary to remove upholstery and other items if saturation or staining occurs; however, botanical disinfectants, enzymes, and other solutions often help minimize this practice. These items are taken to an authorized medical waste disposal facility, and cannot be transported there without a license to do so.
An unattended death may also occur in vehicles, which often results in the vehicle being totaled, as much of the interior must be removed, and the odor remediation process can be extensive. It takes much experience, training, and appropriate equipment to remediate a vehicle biohazard, some Affinity Bio technicians have several years' experience doing this type of work, and are among the best in the industry at ensuring the safety of vehicle owners after an accident.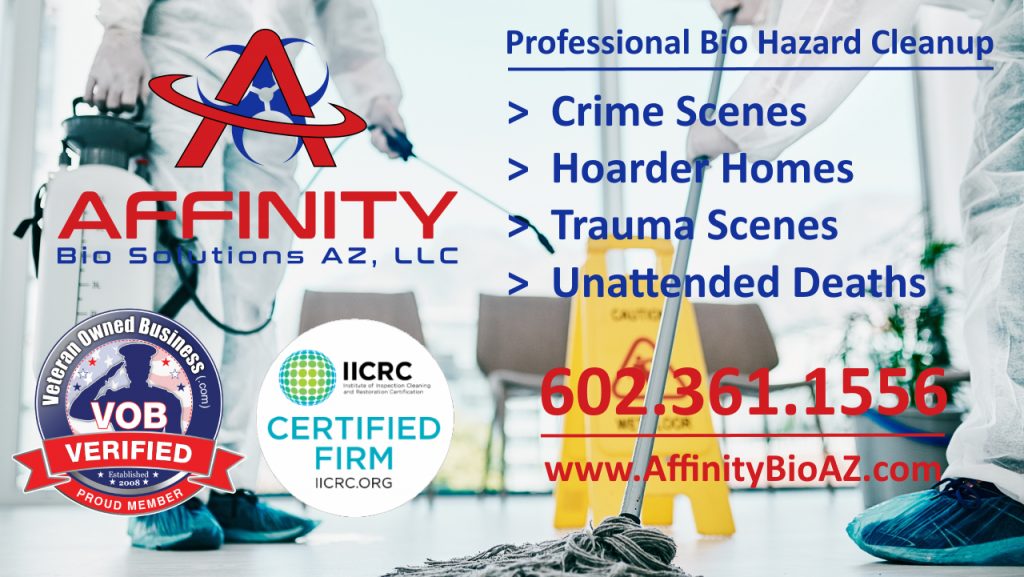 Undiscovered death cleanup, also known as unattended death cleanup is often more severe than other types of trauma scene. An entire blog post could be dedicated to this topic, one will be created at a later date, but for now, a general description is provided. A trauma scene may become an unattended death if the resident has not been found for some time, which generally leads to additional damage to homes or other structures and severe odor that often affects everything in the home. The cause of the additional odor and damage is the decomposition  process, which has five stages, but those which appear to cause the most damage and odor in homes are the first three.
The fresh/initial stage usually begins after 24 hours as aerobic bacteria create an ideal environment in the body for anerobic bacteria to thrive. After about 72 hours the bacterial bloat stage begins, insects have usually been somewhat active at laying eggs, and odiferous gas is generated by anerobic bacteria in the intestines. After roughly ten days the process moves to the active decay stage, which usually lasts up to two weeks, and is when the most insect activity is present, odor increases, and most fluids leave the body. This process can depend on factors such as climate, insect activity, and humidity. Decomposition may occur much more quickly at an undiscovered death in Surprise, Arizona for example than an unattended death in a colder climate, unless the residence itself is very cool. Insect activity can not only add to the severity of decomposition, but insects will travel from the body and cross-contaminate the home. Fluids leaving the body will also cause damage to furnishings and different structural components in the home.
As the severity of a trauma scene or vehicle biohazard increases, so too can the amount of damage to vehicles or homes, and limitations regarding choices in how items are restored. In most cases, home owners insurance will cover the damage to homes, provide a replacement value for discarded items, and Affinity Bio Solutions will offer to waive deductibles in most cases. It is important to have a professional, certified, and experienced company that is licensed to transport medical waste perform trauma scene remediation services.
Please consider Affinity Bio Solutions AZ, LLC if this type of service is needed in Arizona. We are located in the Phoenix West Valley, our fastest response times are to surrounding cities such as Sun City, Surprise, Peoria, Goodyear, Glendale, Avondale, Waddell, El Mirage, Litchfield Park and Buckeye. We service the entire State of Arizona and are usually able to dispatch  all calls within an hour, and then it's just a matter of drive time to your Arizona location.
Additional Phoenix, Scottsdale, Goodyear, Peoria Arizona Crime and Trauma Scene Cleanup information.