Home Content and Furniture Restoration After An Unattended Death in Arizona
How can a Professional Arizona Crime Scene Cleanup Company Help with Content and Furniture Restoration After an Unattended Death?
Trauma scene cleanup in Arizona is a detailed process that can become more complex depending on factors such as time of discovery, severity of the contamination, and structural components of the home. Homeowners insurance will pay for a professional crime scene cleanup company to remove any contaminants and environmental odor, but what about the home's contents and furnishings?
When a death occurs that goes unnoticed for some time, it is termed and undiscovered or unattended death. When an unattended death happens in a home, there is more likely to be extensive damage and odor that permeates into personal items and furniture. When this happens, it can be very difficult to restore the home to livable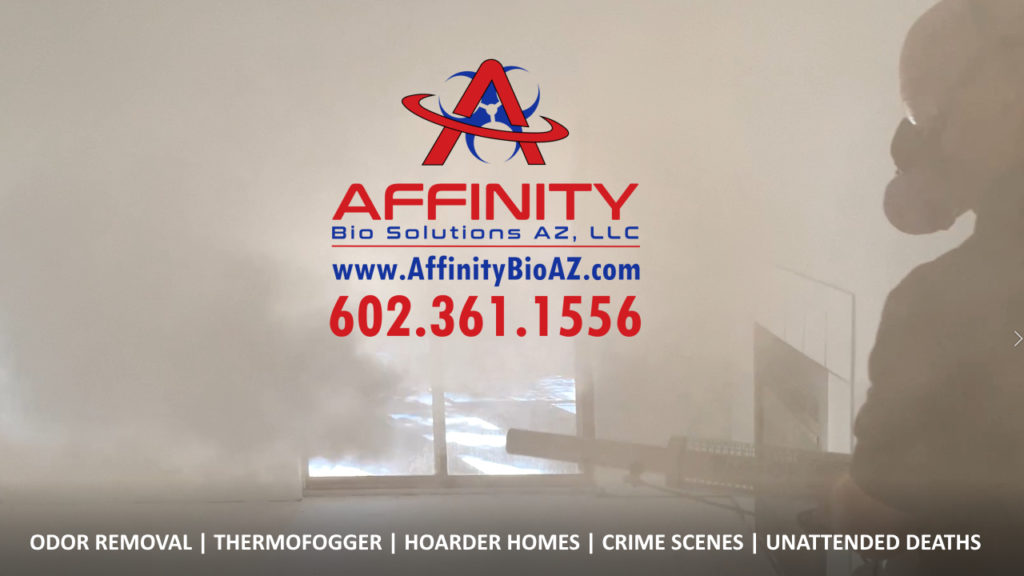 conditions, especially without a certified and experienced biohazard cleanup company. Typical practices of odor removal after a death involve removing porous and semi-porous items from the home, which often includes furniture and personal items. These items may be covered by homeowners' insurance if contents coverage is available, and a replacement value is provided to the client. Once these items are removed, odor removal equipment such as ozone generators may be used as well as cleaning practices like wall-washing and Hepa vacuuming are applied. The goal here by some trauma cleanup companies is to reduce the overall odor in the home and hope that while this process takes place, odor will also be removed from its contents.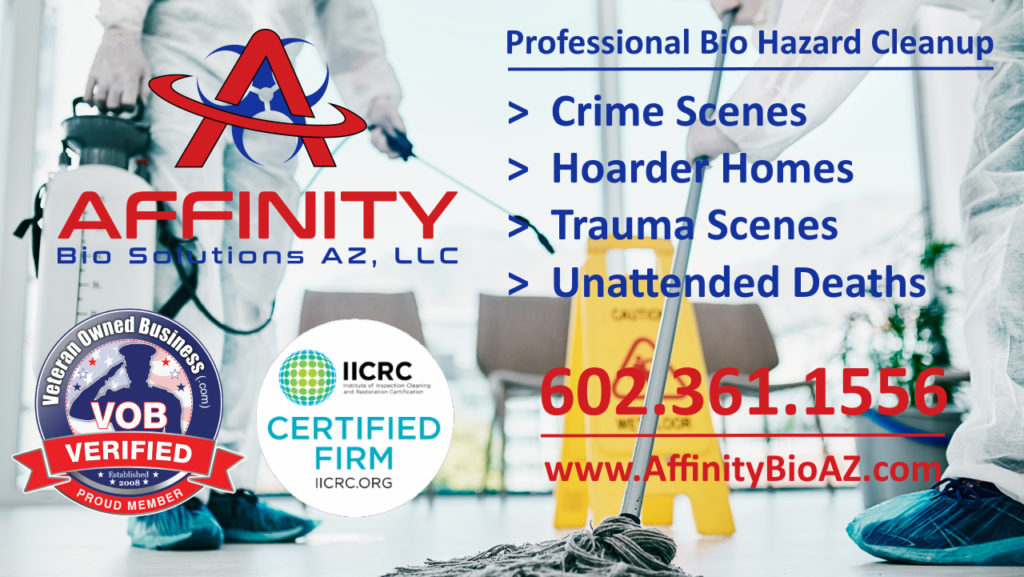 Affinity Bio Solutions AZ has the ability to take a different approach as staff members are certified in contents processing and cleaning. When home owners' insurance with contents 
coverage is available, we are able to inventory affected items and sort them into salvageable and non-salvageable categories. This is then reported to your insurance adjuster with photo documentation so he or she can determine the replacement values and consider the cost to restore salvageable items. A certain amount of flexibility is usually present when discussing the value of items with the insurance adjuster. If a family member expresses a desire to restore an item of sentimental value, Affinity Bio Solutions AZ staff can often work with the adjuster to make sure the valued item is kept.
As mentioned previously, this type of scenario usually happens during an unattended death cleanup when contents and the environment are more affected by odor. Having a company certified in contents processing, like Affinity Bio Solutions AZ carry out the work can be most helpful in such circumstances. The main reason is that we have the additional equipment and training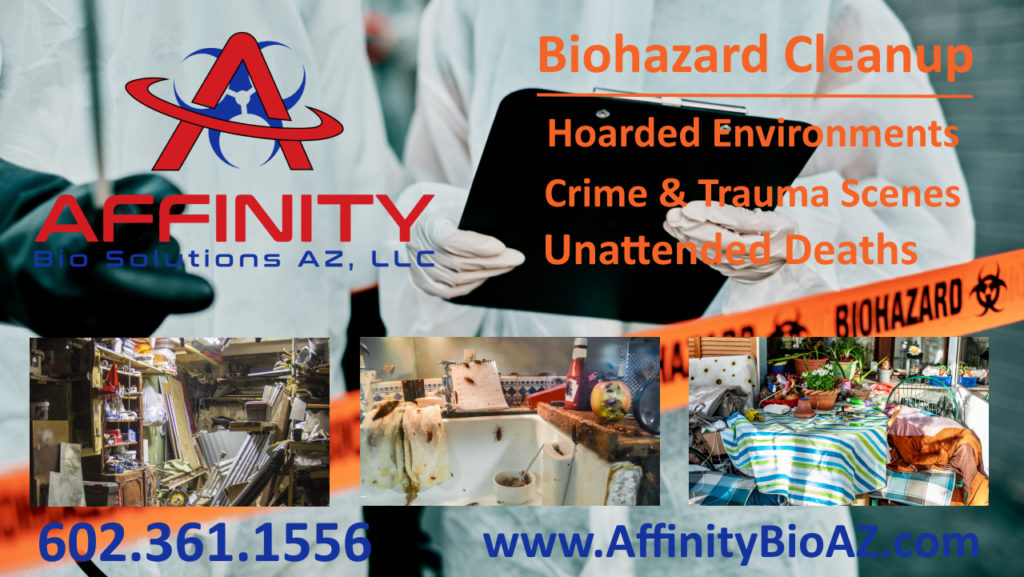 necessary to perform both the biohazard cleanup and the restoration of contents more effectively. This helps to reduce the number of contents that need to be discarded, the likeliness that repeated efforts are needed to remove the odor from the home, and the amount of time the home is unavailable to the client or family members.
As a certified firm with experienced crime scene cleanup technicians and staff who are also certified in content processing, Affinity Bio Solutions AZ can perform biohazard cleanups with the need for odor removal more effectively than many other companies. It is this experience and training that helps us to avoid costly mistakes while working in properties to remove odor after a death and restore items safely. Additional caution is necessary when working with delicate or high value items such as artwork or items of sentimental value. When working with such items a trauma cleanup company should have several options available to them. Deciding on thermal fogging and hydroxyl generation in homes with more delicate items such as artwork for example, can be much safer than risking using ozone generation and an ultra-low volume fogger simply because this may be all a company has available to them.
Depending on the biohazard cleanup company chosen by clients, options are available when it comes to restoring contents and removing odor after a death occurs. Affinity Bio Solutions AZ has the necessary experience and training to employ a variety of processes and equipment to ensure contents are restored safely. Affinity Bio Solutions works with a client's homeowners insurance company to cover and restore 
salvageable items important to the client, rather than simply discarding them. Understanding how to provide proof that a replacement value should be approved for items that cannot be saved can also save clients' money. When considering a biohazard cleanup company, ask them about their relevant crime scene cleanup experience and training as it relates to your particular situation to ensure you are making the correct choice. The first step in this process should be contacting Affinity Bio Solutions AZ for a free estimate or evaluation.