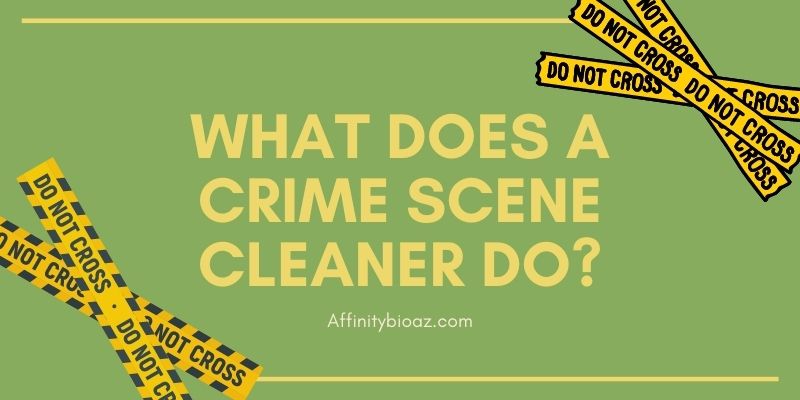 The scene of an accident or a crime such as murder, suicide and bloody assault can be very messy. It requires the special attention of an expert for its cleaning. A crime scene cleaner is a professional who specializes in the removal of all traces of biohazardous substance including blood, bodily fluid, contaminated cloths, razor blades, and other harmful materials that may be found in a crime or trauma scene. The job of a crime scene cleaner differs significantly from that of a general cleaning or janitorial service.
Usually after the occurrence of a violent crime such as murder or suicide, or an industrial accident, the law enforcement officers will seal off the scene, pending investigation. At the end of such investigation, the police officers or the victims' families will employ the service of specialized individuals or companies to clean up the area, home, or office where the crime occurred and restore the same to normal. Here is a succinct outline of what a crime scene cleaner do:
Forensic cleaning: the task of cleaning a crime scene is delicate and may incur legal, financial and medical penalties if not handled by professionals. Crime scene cleaners are trained and licensed professionals who follow certain protocols in the process of removal and disposal of biohazardous materials from a crime scene. They also ensure the containment of contaminated materials and areas.
Emergency and accident cleanup: when an emergency, such as traffic or industrial accident occurs, it may pose a significant health risk to the environment and people around as a result of blood and bodily fluids left behind. A crime scene cleaner is trained and equipped to respond urgently to the accident scene with the objective of disinfecting, deodorizing and removing all biohazardous materials from the affected trauma scene.
Unattended death cleaning: the job of a crime scene cleaner is not limited to attending to major crimes. In many occasions when a person dies and isn't discovered in time, the family members, hotel manager or property owner where the dead body is found will call on a crime scene cleaner to handle the dead, clean blood spills and contaminated materials and to remove any tragic reminder left behind after the traumatic incident.
Toxic irritant cleaning: Toxic substances like tear gas are usually difficult to remove when used by law enforcement officers at a scene. A crime scene cleaner has been extensively trained to decontaminate the environment where it is used.
Sanitization: at the outbreak of viral or bacterial incidents such as Ebola and Coronavirus, crime scene cleaners are employed to disinfect homes, properties and environments that are considered infected.
No doubts, the services of a crime scene cleaner is important because a crime or accident scene poses a severe danger to the victims' family and people in the vicinity especially because of blood-borne pathogens and harmful materials that are usually left behind. Crime scene cleaners possess the training and equipment to handle such task. They also possess among other qualities; integrity, reliability and compassion to help the victims' families deal with a traumatic situation and restore their home.
Contact our office for all HoarderClean up work in Phoenix AZ.
More Tips: