We all deserve a trusted company filled with professionals that get the work done. At Affinity Bio, our crew specializes in biohazard, crime/trauma scene, and hoarded environment service. After a hazardous incident on your property, you will need to hire a crew that will do a professional job. There is a ton load of clean up companies but not all of them get the work done perfectly. There are things to look out for in a company before selecting them to do the job.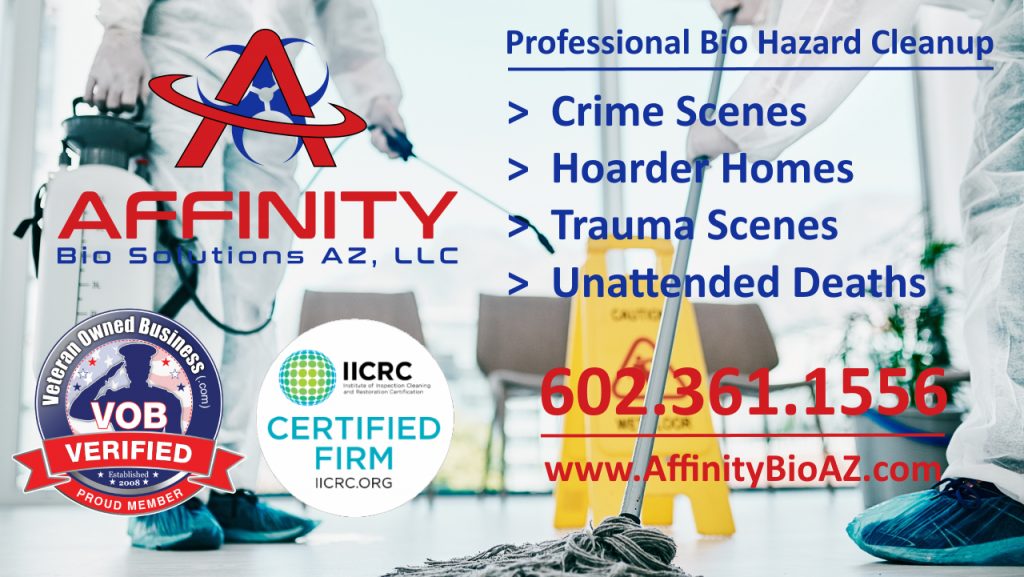 EXPERIENCE: No one wants a bad job done. Always check the type of tools the company has for a cleanup job. You do not want someone coming with towels and just bleach to clean up a crime scene, that screams unprofessionalism. You need to ask the cleaners the length of their experience and how long they have been doing this cleanup job. Also, check the services they offer if it's effective enough. Our professional cleaners at Affinity Bio take extra care at offering biohazard cleanup, crime scene cleanup, unattended deaths, decomposition, suicide cleanup, water damage, hoarder home cleanup, vehicle accidents, bodily fluids, and odor removal. These jobs are done professionally and discreetly due to years of experience. Our staff is available 24 hours a day and 7 times a week for all emergency cleanups.
LICENSING: A bio cleanup crew should have credentials to legally perform bio cleanup services. You do not want a scene in your house because you chose a bunch of unlicensed people to get a job done for you. A proper license should show that they are qualified for the job. At Affinity Bio Solutions of Arizona we are licensed under the Arizona Registrar of Contractors and have our business accredited. We are also an IICRC Certified Cleaning and Restoration Contractor and all our works adhere to IICRC and OSHA standards for the inspection, cleaning, and restoration for Biohazard Crime Scene and Trauma Scene Cleanup in the state of Arizona.
REVIEW:  Be sure someone you know has used a cleanup a crew or recommends it before you dive in. Check the website of the crew you are about to use. Call their customer care line and ask basic questions while noticing how they respond to it. Reviews are important. If there is none on their page, you can check the way they respond to FAQs on their page. This is a safe way to know if you are going for a crew that will get the work professionally done. Other customers in the area should have great reviews to give. Ask them.
HANDLING PAPERWORK: Cleaners should be able to handle most of the paperwork for you. this also includes paperwork to your insurance company. Any company you choose to do the cleanup should be able to paperwork that says the cause of the biohazard or the materials have been properly and safely taken care of.
At  Affinity Bio Solutions our professional Crime Scene, Trauma Scene,  and Biohazard Clean-Up Team provide you with proof of experience. We do a thorough job and properly get rid of the biohazard materials in accordance with OSHA guidelines. Trust us with your crime scene, trauma scene, biohazard and hoarded environment or hoarder house cleanup jobs, call us today.
More Tips for Arizona Business Owners: